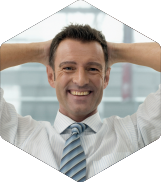 PROFESSIONAL, ORGANIZED, ATTRACTIVE.
You know you need a website, but you're not ready to invest big dollars. Our Value Websites are the perfect combination of nice looking design, easy editing and cost. This isn't some Do-it-yourself site where it's up to you to get it done. I put it together for you, but my websites come with the ability for you to update it if you want or sign up for a management plan if you don't.
My system works by allowing the layout/design to be completely customized based upon what you need. Slideshows, photo galleries, embed videos, social media and more.
What You Get:
Up to 5 Pages (more pages available)
I build your website w/your content
Design based upon example websites or templates
EDS Sitebuilder editing system
3 web server based email accounts
Hosting
On-going management available (includes the hosting)

How Do I Get Started?

When looking for example websites or templates to use for your design, keep in mind your content and photos will be replacing what you're viewing. If you're example site has a lot of content and you do not, we can make adjustments but just be aware it might not look exactly the same.